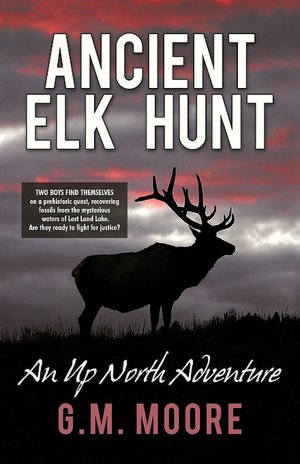 ISBN: 9781475004625
The book Ancient Elk Hunt in the series An Up North Adventure by G.M. Moore is a fun read that would be a great addition to any young reader's shelf. Set in the lake of Northern Wisconsin, two preteen boys enjoy the sights and adventures that this particular part of the country can offer. Since the author grew up exploring the landscape and lakes of Northern Wisconsin, he is able to describe first-hand the beauty and possible hazards of this landscape.
The two boys find themselves in many exciting situations that lead to an ancient artifact find that may help their new friend save his business. First, they must outwit a dishonest archeologist that has his own interests in mind. This book not only explores God's beautiful outdoors but also teaches the value of friendship and helping others. I would recommend this book to anyone who enjoys fishing, hunting, and outdoor activities.
Some reservations that may caution Christian parents: touches on evolution and slang words such as dang and darn. (Reviewed by M.Hicks)
About the author:
G.M. Moore is a former newspaper writer and editor. The author grew up exploring the lakes of northern Wisconsin and currently resides in Illinois.
Website for Up North Adventures:
http://upnorthadventure-series.com
There are two other books in the Up North Adventure Series:
Ancient Elk Hunt
and
Snakehead Invasion.
DISCLOSURE:A complimentary copy of Ancient Elk Hunt was provided by the author to facilitate our honest review. A positive review was not required.