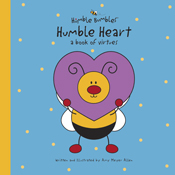 ISBN: 978-1-4143-8069-8
What an adorable book about Christian virtues.
The author, Amy Meyer Allen, begins with a message to the adults who will be sharing this book giving a brief explanation of how the book grew out of the "depths of my soul."
It is a story of various whimsically and beautifully illustrated animal characters and the struggles they have due to their own flawed character.
Yet, as they focus upon God's character, they see their own flaws changing more and more to be like Jesus Christ in thoughts, words, and actions.
The stories focus on humility, love thoughtfulness, faithfulness, mercy, encouragement, comfort, courage, and joy.
I found the story a delight to read and was encouraged by the many scripture passages woven throughout its pages.
I recommend this book for any young child to enjoy having read to him or by using early reading skills to enjoy reading for himself. (rev. J.LaTour)
DISCLOSURE: A complimentary copy was provided by Tyndale Blog

Network on behalf of the publisher, Tyndale Kids, and the author, Amy Meyer Allen, in exchange for my honest review. Opinions expressed are solely my own.