About the book: Readers are invited to travel back to 1867, to the town of Noble Springs, Missouri, for an engrossing story of love's tentative first steps and fragile future in the face of opposition. With tenderness and grace, Ann Shorey tells the story of Rosemary, a sympathetic but strong woman determined to thrive in a world that doesn't always understand.
Courageous and unconventional, Rosemary Saxon served as a nurse during the Civil War, a service that has caused most women in town to regard her as unfeminine and downright vulgar. Although she would like to put her experiences as a nurse behind her, she must support herself. She takes a position with Dr. Elijah Stewart and a mutual attraction begins to develop. But when a sophisticated woman arrives in town claiming to be Elijah's fiancée, a heartbroken Rosemary decides to leave Noble Springs and start fresh. Can Elijah convince her of the mystery woman's deception before he loses her forever?
Review: This book grabbed my attention right from the very beginning. I found it difficult to put down until the very end. Rosemary Saxon, the main heroine of the story, served as a nurse during the civil war. When she settles in the town of Noble Springs, many people look down upon her because of her service. But she asks for and accepts the position of nurse with the new town doctor, Dr. Elijah Stewart, in hopes of using the skills she developed during the war. Rosemary's mother also showed her how to make "remedies" using herbs and she shares them with the people of the town and ultimately Dr. Stewart as well.
However, someone in the town doesn't like Rosemary's herbal remedies and they threaten her and hope to run her out of town. Dr. Stewart has also developed feelings for Rosemary and is very concerned about the threats against Rosemary. Will Rosemary & Dr. Stewart be able to overcome this threat and also the memories of the war?
A wonderful book. This is a great book that takes us back to a more simple time. I highly recommend this book. (rev. P.Howard)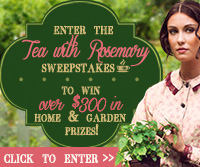 "Available February 2013 at your favorite bookseller from Revell, a division of Baker Publishing Group."
Author Contest!
Click on link/image!
About the author: Ann Shorey is the author of Where Wildflowers Bloom, The Edge of Light, The Promise of Morning, and The Dawn of a Dream. She has also published selections in the Cup of Comfort series and in Chicken Soup for the Grandma's Soul. Ann and her husband make their home in southwestern Oregon.
DISCLOSURE: A complimentary copy of When the Heart Heals was provided in exchange for our honest review by
Revell a division of Baker Publishing
on behalf of the author. Opinions expressed are solely those of the reviewer.