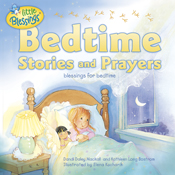 ISBN: 978-1-4143-8111-4
Hardcover $14.99
About the book:
Bedtime routines often include a story and prayer. Now parents and kids can combine both with a special Little Blessings compilation book. The padded hardcover book includes the following sweet stories:
Bedtime Blessings, which reminds kids that God created nighttime too and they have nothing to fear
Thank You, God, which reminds kids to be thankful for everything
Blessings Everywhere, which helps readers remember their blessings
God Loves You, which carries the most powerful message of all to comfort and guide little ones through the night and through their lives.
Each page is filled with full color art of the endearing multicultural Little Blessings characters with illustrations by Care Bear creator Elena Kucharik.
We heartily recommend this lovely book!
Review:
This was an absolutely delightful bedtime story book. It is a collection of four different stories talking to God about "Bedtime Blessings," "Thank You, God!," "Blessings Everywhere," and "God Loves You." Beautiful thoughts and prayers for nighttime, blessings, and thankfulness.
I can see this book as becoming a bedtime ritual with small ones. The illustrations were beautiful and very engaging. While the actual copy that I have read will probably be going into our school library, I have every intention of purchasing one to read to my granddaughter. I hope to create wonderful memories through this small but rich little book. (rev. P.Howard)
DISCLOSURE: A complimentary copy was provided in exchange for our honest review by Tyndale Blog Network on behalf of
Tyndale Kids
and the authors, Dandi Daley Mackall and Kathleen Long Bostrom, and illustrator, Elena Kucharik. Opinions expressed are solely those of the reviewer.