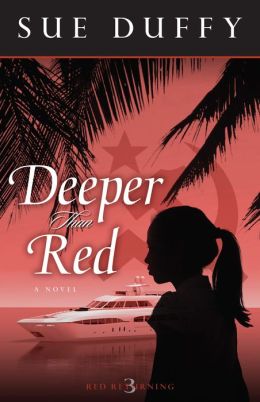 About the book:
Twenty-year-old Tally Greyson isn't consumed with her own education, social life, or career goals like most young women her age. Instead, she's trying to save her mother from the grasp of a seductive cult. What Tally doesn't realize is that in this community, there's a far greater danger than any she can imagine—and she and her mother aren't the only ones in its sights. There are plots brewing here that will threaten the fate of the world.
Concert pianist Liesl Bower has put her own dangerous past behind her, and in her Charleston family home, surrounded by those who love her, she's preparing for a world concert tour with her dear friend, violinist Max Morozov. She thinks she's safe; the man who tried to kill her is dead, his coconspirators have been rounded up, and no one knows she had anything to do with saving the world from a new revolution.
That is, until a world leader is assassinated on the other side of the globe, setting events into motion that could kill the U.S. president, destroy Washington—and take everything and everyone Liesl loves with it. A madman is at the controls now. Even with the backup of the CIA and the dubious protection of a former KGB agent, this time they may all be too late. The heart-pounding final book in the Red Returning trilogy, Deeper Than Red goes further into the world of espionage and action than ever before, delving into the very worst powers of darkness, and pitting them against the light of faith, love, and forgiveness.
Review:
This book would be great for anyone who loves adventure or spy thrillers. There was much going on, with several different scenarios at the same time. The book has several settings in America, as well as Europe. The author did a very good job of telling about the characters and the back story behind each of them.
The main character is a pianist, Liesl, who was brought into the spy world by accident. She is a very brave heroine and does what she can to stand for what is right. She is a Christian and often prays for those around her.
One of the characters is entrenched in a spiritualist camp and her daughter is desperately trying to save her. Even though this is a fictional book, I know there are people who believe in psychics and have séances and this part of the story is very real. There is a Christian man in the camp who is watching out for the daughter and tries to get her to see the Light and help her save her mom.
The international ties in the book are between the president of the United States and his half brother, a Russian, who was an illegitimate son of his father.
There are many other characters who add to the excitement of this book. Two of my favorites are the father of Liesl and her husband's grandfather. They are a pair and do what they can to help protect Leisl.
I really enjoyed this book and want to go read the first two in the series! (reviewed by T.Lyles, teacher)
DISCLOSURE: A complimentary copy was provided by Kregel Publications in exchange for our review. Opinions expressed are solely those of the reviewer. No compensation was for this review.