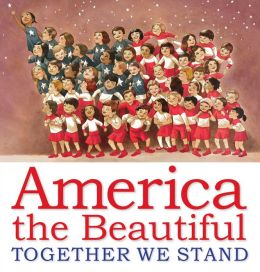 Review:
This is a large picture book using the beloved lyrics to "America the Beautiful" as the storyline. Quotes from American presidents grace the pages.
The pictures are a collection from various artists with a broad spectrum of art styles. The pictures are as diverse as our nation is.
On the inside of the jacket of this hardcover book are pictures of all 44 of the presidents – George Washington to Barack Obama. Of value, too, is the list of National Landmarks and Symbols pictured with descriptions.
"America the Beautiful" Together We Stand
can be used in the school or home setting to instill love of country and patriotism in students. While it is a picture book, the reading level is mid to upper elementary. (rev. V.Godley)
DISCLOSURE: A complimentary copy of "America the Beautiful Together We Stand" was provided by
Scholastic Press
in exchange for our honest review. Opinions expressed are solely those of the reviewer.