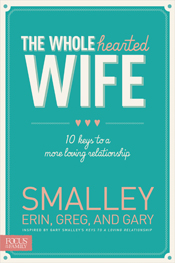 About the book:
(back of book) – You might be like Erin Smalley, struggling in her marriage and desperately needing words of encouragement. Ironically, she found new hope and direction in a conference led by … her husband's father! Applying Garry Smalley's principles, she not only experienced positive change in her marriage, but also helped launch a thriving marriage ministry to others with her husband, Greg.
No matter where you are in your marriage journey – newly wed or celebrating your silver anniversary – the ten keys to a healthy marriage presented in The Wholehearted Wife can move you toward a more loving and vibrant relationship. It begins where you have the most influence of all – in your own attitude and wholehearted commitment.
Review:
The Whole hearted Wife
has been one of the most enjoyable, informational, practical, and inspirational books that I have read in quite some time. From the first point of "honoring" to the tenth point of "transforming life's trials into blessings," there was something in each chapter that was very helpful and applicable. I have been married for 31 years and I found several "aha" moments throughout the book. It is more than a self-help book. It is a book full of scripture-based advice and truth that points us to the Lord as the ultimate help-giver in strong relationships and marriages.
The only thing that I did struggle with a little bit was the switching back and forth between the authors. Sometimes this happened right in the middle of a chapter and for me, interrupted the flow of thoughts. I found myself stopping and having to go back and re-read quite often in order to understand who was speaking. However, this does not take away from the helpful content.
While "The Whole hearted Wife" may seem like just a book about marriage and how to make our relationship with our husbands stronger, the Smalleys write that ultimately our personal relationship with the Lord is absolutely foundational to a strong marriage – it is the cornerstone. I highly recommend this book to the newly-wed and beyond.
DISCLOSURE: A complimentary copy was provided for this review by the Tyndale Blogger program. Opinions expressed are solely those of the reviewer. No compensation was received for this review.