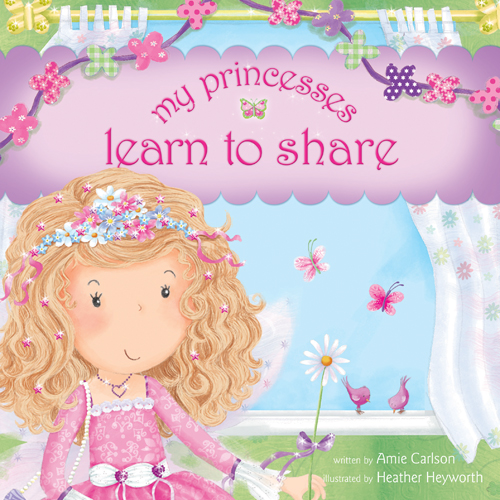 About the book:
Little girls love princesses—complete with tiaras, gowns, and all things sparkly. This new, affordable picture book series captures the love of princesses and adds a biblical lesson, teaching girls they are daughters of the King and encouraging them to live as God would have them live. The full-color art features the adorable, multicultural princess characters created by Heather Heyworth.
Each story begins with a special rhyme about being a princess and includes a Bible lesson—sure to provide many hours of reading fun for young princesses!
In My Princesses Learn to Share, Princess Grace and Princess Hope want to wear the same pink dress when they play dress-up. They end up ripping the dress, but Mom has a story to help them learn to share. She tells them the story of Jesus and the young boy who shared his lunch. The girls get the picture, Mom mends the dress, and they learn to share.
My review:
This is one in a series of books geared toward helping young girls realize they are princesses through Jesus and how to live for him. I enjoyed the way the author weaved the Bible story about the young boy who shared his lunch with Jesus to teach both the practical side of sharing as well as the biblical principle of sharing. The artwork is beautiful and well done. I do, however, feel that it is targeted more toward girls in K5 and older – perhaps through third or fourth grade. (rev. P.Howard)
DISCLOSURE: We received a complimentary copy from Tyndale Publishing in exchange for this review. Opinions expressed are solely our own. No compensation was received for this review.