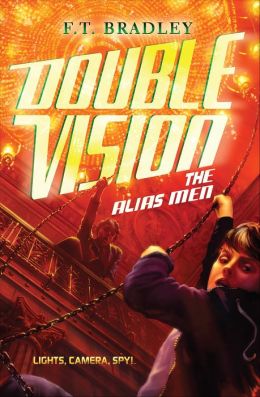 ISBN-13:

9780062104434
About the book: Undercover Junior Agent…Take Three!
With the annual Baker family reunion only days away, Linc expects a weekend full of cousins, cars, and his mom's terrible macaroni salad. But then secret government agency Pandora contacts him – again! They need Linc's help to secure the Dangerous Double of Charlie Chaplin's famous bowler hat before mysterious master Ethan Melais uses its invisibility powers for world domination. Linc agrees to join the mission. Easy peasy, right? But if there's one thing Linc should know by now, it's that nothing is easy when it comes to being a junior secret agent – especially when you accidentally land yourself a role in a Hollywood blockbuster. With bogus leads, baffling dead ends, and constant one-upping from his look-alike nemesis, Ben Green, Linc's jugging a lot more than he bargained for!
Review:
Again, F.T. Bradley delivers. "Double Vision – The Alias Men" is the third book in her "double vision" series and it is an excellent book; easily just as good as the first two: "Double Vision", which is set in Paris; and "Double Vision – Code Name 711" set in Washington, D.C.
Although the target age for the book is 12 and up, I thoroughly enjoyed it. It is entertaining, easy to read and just plain fun. I did not want to put it down until it was finished. With so many books these days with a sci-fye theme, this book is just an old fashioned spy game. Again, this book is such fun to read!! Easily recommended. (reviewed by P.Howard)
DISCLOSURE: We received a complimentary copy from the author for the purpose of this review. No compensation was received for this review. Opinions expressed are those of the reviewer.