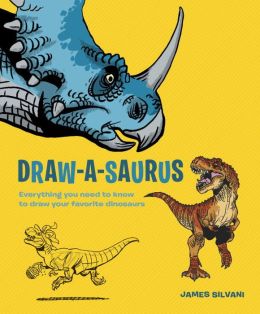 ISBN-13:

9780385345804
Paperback $18.99
About the book:
This in-depth yet accessible dinosaur drawing guide combines humor, creativity, and the latest dino research to show artists young and old how to breathe life into drawings of their prehistoric favorites.
Prehistoric Pencil Power!
Even though they lived some 65 million years ago, dinosaurs and other prehistoric reptiles continue to rule today. From movies to comics and cartoons, these ancient, giant beasts are everywhere you turn. Of course, who wants to just read about or watch these dinos when you can learn how to use pencils, pens, markers, and more to draw your very own?
Cartoonist James Silvani combines easy-to-follow art exercises with the latest, greatest dino-facts to help you create fun and cool dinosaur doodles all by yourself. With lessons on old favorites like T-rex and stegosaurus, as well as lesser-known (but still awesome) creatures like the massive argentinosaurus, Draw-a-Saurus has everything the dinosaur fan could ever ask for (outside of their very own pet dino!).
https://www.tumblr.com/search/draw%20a%20saurus
Review:
If you are looking for a how to book for drawing this book is a great choice. The chapters are based on different dinosaurs.The last chapter tells you where the different dinosaurs live.That way you can draw the dinosaur in its natural habitat. They teach you step by step how to draw a detailed dinosaur. Children who are interested in drawing will be able to learn a lot from this book. They will be able to draw a dinosaur that looks as if it could walk off their page.
https://www.tumblr.com/search/draw%20a%20saurus
I would definitely recommend this book for children of all ages. If your child loves dinosaurs and drawing then this book will become a favorite. This book also provides information about the different dinosaurs.So not only will your child learn how to draw they will also learn interesting facts. This book will bring the dinosaurs to life.
(reviewed by S.Wall-mother of 2 boys)
DISCLOSURE: A complimentary copy was provided to us by Blogging For Books review program in exchange for a review. No compensation was received. Opinions expressed are solely those of the reviewer.)