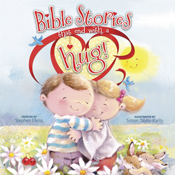 ISBN: 978-1-4143-7543-4
Review:
Bible Stories that end with a Hug!
by Stephen Elkins and illustrated by Simon Taylor-Kielty is a wonderful Bible story collection for children.
Each story is centered on a set of Bible verses. The verse is explained in the story and a set of questions follow to ensure understanding of the story.
At the end of every story is a hug time.
The author encourages you to read this with your child and hug them at the end of every story. This is a wonderful opportunity to read and explain the Bible, apply it to everyday life, and to share a special time with your child.
As you continue through the book your child will begin to anticipate the hug at the end of the story.
The stories are well written and beautifully illustrated.
The book is very easy for children to understand.
The K5 class enjoyed reading through this book.
They especially loved the hug section.
(rev.
C. Ingram)
About the author:
Stephen Elkins
is a Grammy Award–nominated record producer and a multimillion-selling children's author and songwriter. He is owner and founder of Wonder Workshop, a multifaceted Christian media company specializing in the creation of juvenile books, audio products, and DVDs.
A complimentary copy was provided by
Tyndale Blog Network
on behalf of the
publisher
and author for the purpose of an honest review.