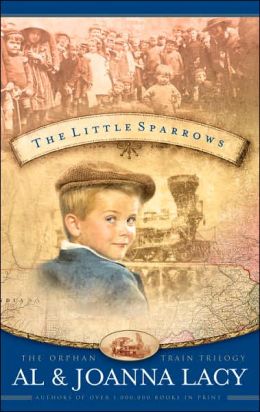 About the book:
Kearney, Cheyenne, Rawlins. Reno, Sacramento, San Francisco. At each train station, a few lucky orphans from the crowded streets of New York City receive the fulfillment of their dreams: a home and family. This "orphan train" is the vision of Charles Loring Brace, founder of the Children's Aid Society, who cannot bear to see innocent children abandoned in the overpopulated cities of the mid-nineteenth-century. Yet it is not just the orphans whose lives need mending — follow the train along and watch God's hand restore love and laughter to the right family at the right time!
Review:
People who write reviews for books have opinions either strong or negative. The Little Sparrows written by Al and Joanna Lacy is a very entertaining book. The genre is Historical Fiction, and I find this type of genre very interesting. Placing historical facts in the realm of fictional characters is an interesting way to portray history.
Al and Joanna Lacy have written other works about the Trail of Tears and the Texas War of Independence. Those works were very interesting with the fictional characters intertwined with historical facts. This particular novel represents the orphan trains also interweave a little known aspect of history.
There were many different reasons and situations that children were placed onto the orphan train seeking new homes and lives. One particularly interesting part tells about siblings whose parents supposedly perished in a shipwreck, and the subsequent search for these siblings when they returned to full health.
Throughout this story the authors have woven Christian faiths and beliefs. We learn that the gentleman who originally created the orphan train was himself a Christian. Trust in God plays a major part throughout the book. The message of salvation is repeatedly preached.
Having read other novels by Al and Joanna Lacy, I was slightly disappointed with how predictable several story lines were. Yet, although some of the suspense level was diminished, the amazing historical facts about the orphan trains were enough to keep me turning the pages. (rev. D.Bodley)
DISCLOSURE: A complimentary copy of
The Little Sparrows
was provided by
WaterBrook Multnomah to facilitate our honest review without any obligation for a favorable report. Opinions expressed are solely those of the reviewer.