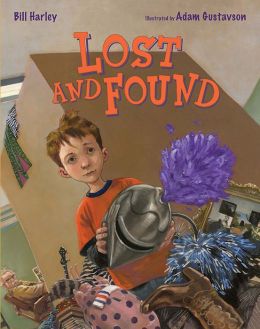 Hardcover: $16.95
ISBN: 978-1-56145-628-4
About the book: A little courage yields unexpected surprises when Justin visits the dreaded lost and found.

When Justin loses the special hat his grandmother made for him, he looks everywhere he can think of to find it. Everywhere, that is, except the lost and found. Mr. Rumkowsky, the old school custodian, is the keeper of all the lost and found items, and everyone is afraid of him, including Justin.

With his grandmother coming to visit soon, his mom upset, and the hat nowhere in sight, Justin finally musters the courage to enter Mr. Rumkowsky's domain. There he discovers a whole world of treasures—lost items Justin's friends (and generations of children before them) have been too afraid to claim. Things keep getting weirder and weirder, until way down at the bottom of Rumkowsky's giant box Justin unearths something completely unexpected…

Reviewed by Madi, 5th grade student:
I read the book "Lost and Found" and I really enjoyed it. You can follow Justin on his adventure through the lost and found box to find his favorite hat. The big question is, "Will he find it in time?"
Note by ACS Blogger: The illustrations by Adam Gustavson again are very appropriate and appealing. Gustavson's creative art is from the perspective of a child's eye view and his two-page spreads are a delight. He really captures to essence of Justin's emotions and flow of the story.

DISCLOSURE: A complimentary copy of Lost and Found was provided by the publisher, Peachtree, in exchange for our honest review. Opinions expressed are solely our own. No compensation was received for this review.