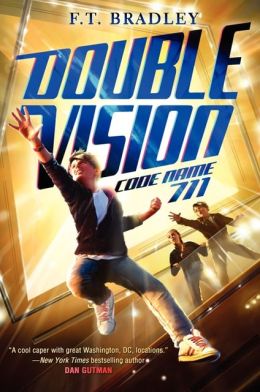 ISBN-13:

9780062104403


Publisher:

Harper Collins Publishers
Hardcover: $16.99
About the book:
Washington, DC. Where spies are everywhere.
Lincoln Baker is just a regular kid. Okay, so he had this one undercover mission in Paris and, sure, he might have saved the world, but that's ancient history. He's done being a junior secret agent for Pandora.
The trouble is, Pandora isn't done with him. They've received a threat on the president's life from an agent named Dagger. Now they want Linc to go to Washington, DC, to protect the first daughter, Amy. As if that's not enough, George Washington's legendary coat, rumored to make its wearer invincible, is missing. Pandora needs to find it before Dagger does. Unfortunately for Linc, his by-the-book agent nemesis, Ben Green, is already on the case.
With Amy's help, Linc will have to dig deep into the history of America's first spies to beat Ben at his own game and stop Dagger before it's too late.
Review
: Once again Mr. Bradley has written a fantastic spy mystery! Although the target age for this book is 8-12 years of age, I am "older" and it is an absolutely fun book to read. This book is the second in a trilogy and while you don't have to have read the first book ("Double Vision"), it would be helpful in recognizing the main characters in this second book.
I was pleased to see that the setting for "Code Name 711" was Washington, DC – a city that really is full of mystery itself. The author has done an excellent job of helping one picture the city and I could easily see Linc and Amy running the through the streets to avoid danger.
Great book! Great read! Great fun! I am looking forward to reading the third book in this series when it is released in the Fall of 2014!
(rev. P.Howard)
Meet the author:
F. T. Bradley is originally from the Netherlands and still likes to travel, like Linc, whenever she gets a chance. Her husband's Air Force career has F. T. and their two daughters moving all around the world, but for the moment the family lives on the Mississippi Gulf Coast. This is the first book in her new series about Lincoln Baker and Ben Green.
DISCLOSURE: A complimentary copy of
Double Vision Code Name 711
was provided to us in exchange for our honest review by the author, F.T. Bradley. Opinions expressed are solely those of the reviewer. No compensation was received for this review.