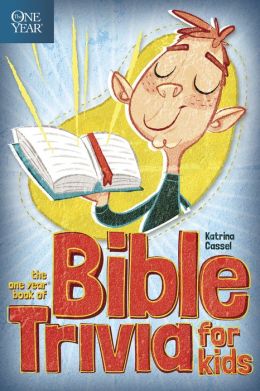 About the book:
What kind of fruit did Eve take from the tree of knowledge of good and evil? A. pear; B. apple; C. we don't know.
What did Jesus serve the disciples for breakfast? A. fruit and cereal, B. fish and bread; C. manna and quail.
Learn a little Bible trivia while learning more about God's message within the Bible. This One Year book features 365 trivia questions that lead into meaningful devotions about the questions. Each devotion also includes a For You section, which gives a simple application to kid's lives. And the answer to the opening question wraps up the devotion and gives readers biblical references to read.
Reviewed by fifth grade students - their comments.....
This book is interesting. Anyone that would like to be a better Christian should read this book.
I like this "book" because it tells about what happens to that person. It also tells which day you should read it as in February 13. It tells what you should do (right or wrong), and tells you a Bible story. I also like it because it tells where that [Bible] passage is found.
I really like this Daily Devotion because it might tell you something you might not know. I did not know you have to forgive seventy times seven.
I love this book because it was a very good devotion. Moses and the burning bush was so great! Writing this is my pleasure because I love devotions!!! Some devotions I have to have my Mom or Dad to help me because I don't understand. So my Dad got me a kid's one and I love them!!!
I like it. I like the extra trivia questions. They help you review and remember the story.
I like it for all ages. I thought it was cool that Moses was standing on holy ground when God was talking in a bush! I like the story about the King.
I liked how God got Moses' attention by the burning bush. I liked the book.
I liked the book, it was interesting and it explains what is going on. Teaches you a lesson of how your life should compare.
DISCLOSURE: This book was received through the Tyndale Rewards Program.