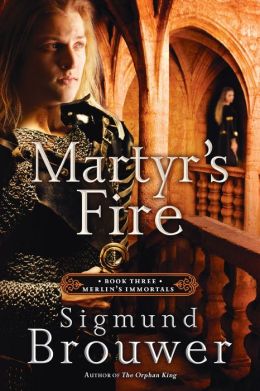 ISBN-13: 9781400071562


Publisher:

The Doubleday
Religious Publishing Group
About the book:
Will this dangerous quest lead the outcast Orphan King toward an ancient secret—or to certain destruction?
Posing as a beggar, Thomas escapes Magnus after fifteen men, who are calling themselves the Priests of the Holy Grail, arrive and take control of the castle through wondrous acts and apparent miracles. With the help of his longtime friend Gervaise, Thomas sets out on a journey that leads him to the ancient Holy Land. Unaware that Katherine and Hawkwood are watching over him, Thomas is tested in his beliefs and comes face to face with the ancient power that the Merlins and Druids have long been searching for.
Enter the world of Merlin's Immortals, where ancient secrets and evil conspiracies take you on a breathless adventure of discovery, intrigue, and hidden knowledge.
Review
:
Martyr's Fire
is full of intrigue, mystery and action. Although this is the third book in the series Merlin's Immortals, it is not absolutely necessary that you read the first two books to follow along and understand the story.
The setting of this book is medieval days and reminds me of the "Knights of the Roundtable." Closer to the end of the book, the author even includes a very familiar person /character: Robin Hood! What fun!
The writing style of the author is enjoyable. The chapters are short, which makes the book easy to pick up and put down for younger readers, such as 4th to middle school, which is the target age. (rev. P.Howard)
DISCLOSURE: A complimentary copy was provided by the
publisher
in exchange for our honest review. Opinions expressed are solely those of the reviewer. No compensation was received for this review.