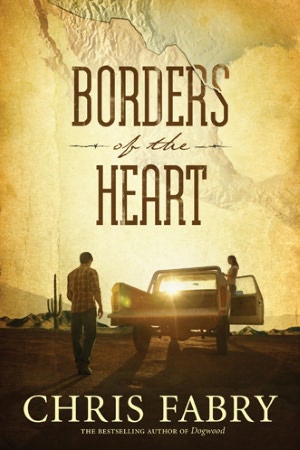 Borders of the Heart by Chris Fabry is an amazing adventure. It is set in Tucson, near the Mexican border. The story line is one that could be a newspaper headline. It deals with the problem of border patrol and the Mexican drug cartel.
J.D. Jessup has had some hard experiences. He was a singer in Nashville with a beautiful wife. Tragedy struck home and J. D. suffered a traumatic loss. Fleeing from his pain, he finds himself working on an organic farm in Tucson. One morning he makes a gruesome discovery that leads him down a path to God's love and healing. Maria, a beautiful young woman, is left for dead in the desert. Thinking she is dead, J.D. starts to call border patrol. At that moment, Maria moves. J.D.'s heart cannot let him turn her in. He decides to get her the medical help she needs.
This simple act of kindness starts a deadly pursuit. Both J.D. and Maria have secrets. Throughout their journey, Maria keeps her faith in God. She teaches J.D. that God's love is more powerful than any fear. J.D. is very bitter and resentful toward God. As he and Maria draw closer and their lives are threatened, he realizes that God does have a plan for his life. He does all that he can to save Maria and learns to let go of his past.
This is the first Chris Fabry novel that I have read but it surely will not be the last. It is fast paced and well written. (reviewed by C.Ingram)
About the author:
Chris Fabry
is an award-winning author and radio personality who hosts the daily program
Chris Fabry Live!
on Moody Radio. He is also heard on
Love Worth Finding, Building Relationships with Dr. Gary Chapman,
and other radio programs. A 1982 graduate of the W. Page Pitt School of Journalism at Marshall University and a native of West Virginia, Chris and his wife, Andrea, now live in Arizona and are the parents of nine children.
DISCLOSURE: We were provided a complimentary copy of
Borders of the Heart
by
Chris Fabry
in exchange for a review with our honest opinion. All opinions expressed are those of the reviewer.