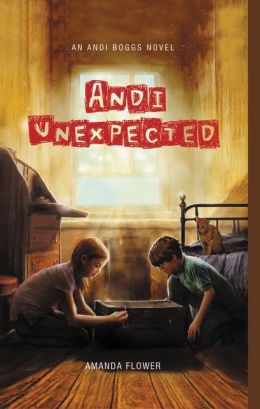 After the sudden death of their parents in the jungles of Central America, 12-year old science geek Andora "Andi" boggs and her diva teenaged sister, Bethany, move to rural Killdeer, Ohio, to live with their eccentric 20-something aunt. And while the timeworn house has been home to the Boggs family for generations, Andi feels far from at home. Exploring the attic in her grief, she discovers proof of another Andora Boggs in the family tree hidden in a Depression-era trunk. Despite the meddling of the citizens of Killdeer, Andi and her new friend, Colin Carter, are determined to find out who this first Andora was, how she vanished, and why no one in town wants to talk about her. As more and more unanswered questions pile up, Andi and Colin must decide who they can trust with their secrets and who is interested in Andora's story for the wrong reasons.
Review: "Andi Unexpected" is targeted toward middle school and higher readers. It is one of the best books I have read in quite some time. It is quick paced and I read it in one day. Amanda Flower has written a wonderful story of mystery, friendship, and how people deal with grief differently.

Andi and her sister have to move in with their aunt Amelie because their parents have died while on a science mission in the jungles of Central America. The house where their aunt now lives used to belong to Andi's grandparents. Initially, Andi and her sister Bethany have to share a bedroom, but the two sisters fight quite a bit since the death of their parents, and so Aunt Amelie suggests to both Andi and Bethany that if they will clean out the attic, then Andi can turn it into a bedroom. The stuff they move out the attic can be sorted and set up for the annual Killdeer yard sale and whatever money the schools earn, they can keep. Well, both girls want their own rooms and Bethany is interested in the money because Aunt Amelie has told her that if she wants to keep "texting" on her cell phone, then she'll have to earn the money to keep that feature. Andi doesn't necessarily care about the money. She just wants her own room.

This simple task of cleaning out the attic turns into a wonderful adventure for both Andi and Bethany. Through the guidance of their Aunt Amelie, they also are able to move forward and work through some of the grief of the loss of their parents. They meet some very interesting people along the way and develop friendships that will help them in their adjustment to life in Killdeer. Andi and Bethany also see how the other one is actually broken over the death of their parents, but it's okay to deal with their loss in different ways. It doesn't mean the other person is deeply saddened just because they may or may not show the type of emotion the other thinks they should.

This is a great book and well, well worth the read. I look forward to other books in this series!!

DISCLOSURE: A complimentary review copy was provided to facilitate this review. Copies may be acquired at your favorite book supplier. for author information - click here.