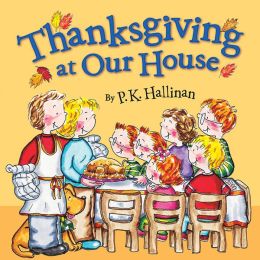 ISBN-13:

9780824956547


Publisher:

Ideals Publications


Publication date:

9/28/2013
About the book: Thanksgiving Day brings a flurry of activity to little P.K.'s house. His family and friends gather to watch parades, play football, and eat dinner -- such fun that P.K. declares: 'I'm grateful for blessings that just never end, but mostly I'm thankful. . . for family and friends.' From helping prepare the meal to counting blessings, children will identify with the familiar aspects of the holiday. The bright, colorful illustrations and heartwarming text combine to make this book, now available in paperback, a must-read for the Thanksgiving season. Ages 3-7.
Review:
This is such a good rhyming book for children of all ages. It would be a good book for young readers because it is very colorful and very easy to read. The "story" follows the illustrations well to help the young child connect. And traditions of the family are brought forth in a way easy for the young child to comprehend and perhaps identify with. (reviewed J.McCann)
I'm glad for Thanksgiving
To count all the blessings
That friends bring our way
DISCLOSURE: A complimentary copy was provided by Ideals Publishing in exchange for our honest review. Opinions expressed are our own.