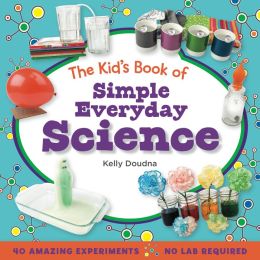 ISBN: 9781938063343
Age range: 5-9 years - Grade level: K5-4th
Published October 2013
About the book:
These 40 simple science activities will have young kids searching the house for everyday items to learn about temperature, pressure, water, air, heat, and plants! Each easy and fun activity includes how-to photos, simple instructions, short explanations, and introduces beginning math principles. With tips and extra information to extend the scientific experience, this book will get kids thinking like scientists in no time at all! The book includes: supply & tool lists, visual and text-based explanations, step-by-step instructions and photos, and safety information.
Review
: This is a really good book. It kept the attention of my 11 year old throughout. The projects are easy to understand and can be, mostly, done with everyday household items. Designed to easily stir the kids' imaginations to delve "scientifically" into their everyday surroundings. (reviewed by J.McCann, mother of two)
DISCLOSURE: A copy of this book was provided in exchange for our honest review by Scarletta Kids on behalf of the author.