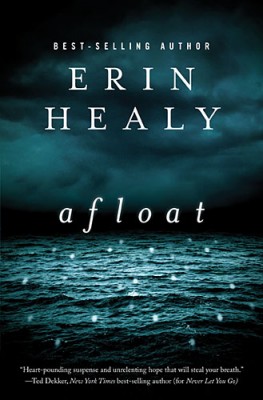 ISBN: 978-1-4016-8552-2
About the book: Who will you trust when dark waters rise?

Eagle's Talon is an architectural marvel—shining residential units afloat in a protected cove of the gorgeous Rondeau River. The project is nearly complete, partially occupied, and ready to make investors rich when a sinkhole gives way. Then torrential rains and a flood leave a ragged collection of builders, investors, and residents stranded in one floating building, cut off from the rest of the world.They're bitterly divided over what to do next.
Architect Vance Nolan insists they should sit tight and wait for rescue. Developer Tony Dean wants to strike out into the darkness. And single mom Danielle Clement, desperate to protect her young son, Simeon, struggles to hold their motley band together.

Power failure, a pall of unnatural daytime darkness, explosions in the distance, then a murder ratchet tensions to a boiling point. But Danielle's young son, Simeon, has spotted something strange underwater—beautiful, shifting lights in the dark water below.

In this watery world where everyone's secrets will eventually come to light, Salvation may mean more than just getting out alive.

Exploration of the human spirit and supernatural possibilities from best-selling author Erin Healy.
Review:
I must confess…I didn't read this book in its entirety. In fact, I couldn't finish this book. I found it very difficult book to follow and I actually had to read the first few pages about three times and still could not visualize what the author was trying to describe. Her story centers around apartments that have been built (or are being built) on water and they give the effect that they are floating. There is an unusual accident which causes a domino affect to unfold.
She introduced several characters which I also could not keep straight in my mind and I feel that there were too many storylines she was trying to develop in the first 50 pages for anyone to adequately follow. I'm sad that I couldn't get through this book, because description on the back cover of the book was intriguing and I was looking forward to reading. (rev. P.Howard)
DISCLOSURE: We received a complimentary copy in exchange for our honest review from Litfuse Publicity Group on behalf of
Thomas Nelson Publishing
and author, Erin Healy. Opinions expressed are solely those of the reviewer.
More reviews:
http://litfusegroup.com/author/ehealy