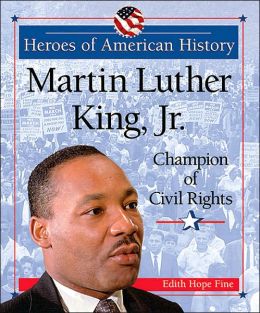 ISBN-13: 978-0-7660-2466-3
Grades 3-4, Page Count: 32
The
Heroes of American History series
includes the story of
Martin Luther King, Jr. Champion of Civil Rights
by Edith Hope Fine. This series will encourage the young student to delve into the study of biographies of famous people. Ms. Edith Hope Fine's book about Martin Luther King, Jr. is an inspiring book detailing the life and events surrounding Mr. King's involvement in the Civil Rights Movement. The author presents well the details of the peaceful approach to change that was near and dear to Dr. King.
The large type makes this an easy read for young readers and middle readers alike. Pictures of the actual events accompany the text to make the information real for the reader. Each chapter is a concise explanation of an important event in the life of Dr. King as well as in the history of the Civil Rights movement in American history.
This will be an appropriate book for young student's reports and period studies. This is a good book to add to the ACS Library biography section. (reviewed by Claudette Delorge)
DISCLOSURE: A complimentary copy of
Martin Luther King, Jr.: Champion of Civil Rights
was provided to us by
Enslow Publishers, Inc
. to facilitate our honest review. Opinions expressed are solely those of the reviewer. No compensation was received for this review.