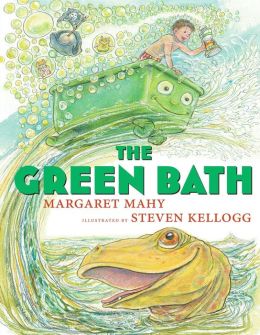 Review:
This is a wonderfully fanciful story about a boy, a bath, and pirates.
Delightful illustrations accompany fun text that lends itself to a good read aloud for young children.
Sammy is challenged to stay clean for his grandmother's arrival.
When his neighbors get a new fancy boat and he gets a new green tub and his adventure begins.
Poor Sammy finds out that his adventure can be equally as fun as theirs.
This story lets each one use their imagination in an amazing and fun way. (reviewed by Claudette Delorge)
The teaming of Margaret Mahy's famous award garnering text and story line with famed Steven Kellogg's fantastic skill as an illustrator creates a book sure to please the kids and presents an adventure that they will surely emulate in their own bath tub.
DISCLOSURE: A complimentary copy was provided by Scholastic Press in exchange for our honest review. Opinions expressed are solely those of the reviewer.