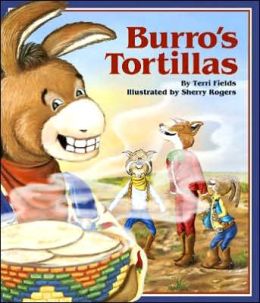 Burro's Tortillas is a whimsical story about a "little burro" (a small donkey) who noticed that the corn in the fields had grown tall and was ready to harvest. His goal was to harvest the corn and make tortillas. The burro calls his friends, the bobcat, the coyote, and the jackrabbit to help him harvest the corn, but each had an excuse as to why they were not able to help. The burro harvests the corn himself, and once again calls his friends to help him in the next step of tortilla production, removing the kernels. They are again much too busy and give excuses in turn. The story follows the production of tortillas, the burro alone does each step as his friends are obviously too lazy to work. Finally the tortillas are baked and ready to eat; the smell of fresh tortillas wafting through the air. The burro's friends show up without being called; they are ready to eat the tortillas. The burro responds to his friends by reminding them that they did not help on any of the steps to make the tortillas, now he did not need help in eating them. The burro enjoys a tasty meal of fresh baked tortillas while the bobcat, coyote, and jackrabbit look dejectedly on.
The story is educational on several levels. It follows the production of a famous Mexican food while exposing the readers to something about the culture of Mexico and Central America. The story line introduces Spanish words as well as picturesque Mexican settings. Finally, the author has built the
story around a moral to be learned: he who wants to eat, should also be willing to work.
After the story concludes, the reader finds a section of interactive games to further enhance the learning of Spanish words introduced in the story. It also includes a recipe for making tortillas at home.
Burro's Tortillas is a fanciful book for children. It exposes children to another culture, a foreign language and a moral. It is a wonderful children's book. (reviewed by S.Fincannon)
DISCLOSURE: A complimentary copy was provided in exchange for our honest review by
Sylvan Dell Publishing
. No compensation was received for this review. Opinions expressed are solely those of the reviewer.