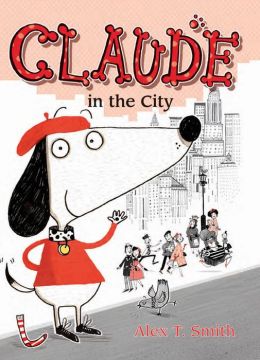 Early chapter book
Ages 1-9, Grades 1-3
Review; This book is one of a series of books about a dog named Claude. Claude lives with Mr. and Mrs. Shiny Shoes. Every day they go to work leaving Claude at home. Claude and his friend Sir Bobblysock have other plans.
They decide to take a trip to the city. While in the city they see all kinds of stores and people. Claude's favorite place is the beret shop. He goes a little crazy and buys berets of all different colors. Next they visit an art museum where Claude stops a robbery and wins a medal.
The next day Sir Bobblysock becomes ill and Claude has to take him to the hospital. Claude once again goes to work helping those around him. This book is filled with colorful and fun illustrations. The young reader will enjoy reading about the many adventures of Claude and Sir Bobblysock. (reviewed by L.Hale, Elementary Teacher, ACS)
Author/illustrator Alex T. Smith has given the young readers a delightfully illustrated dual-tone early chapter book that will engage them with the "storyline" and various episodes as well as the captivating illustrations.
DISCLOSURE: A complimentary copy of Claude in the City was provided in exchange for our honest review by Peachtree Publishing. Opinions expressed are solely those of the reviewer.