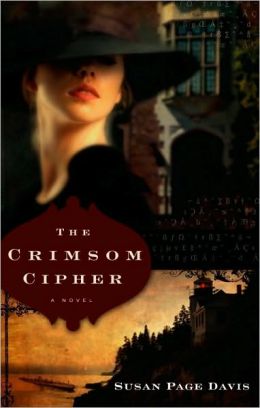 ISBN-13:

9781609360122
About the book:
A female Navy cryptographer seeks to save lives...and uncover her father's killers.
In 1915, German sympathizers escalated acts of sabotage in the United States to keep the nation from joining in the war. Following the mysterious murder of Emma Shuster's father, Lt. John Patterson invites Emma to become a Navy cryptographer because of the expertise she gained in helping her father develop a cipher system. Emma finds new strength in her faith as she strives to outwit her adversary, known only as Kobold - German for goblin. Can Emma and John find love in the midst of turmoil as America plunges toward war?
Review:
Emma Shuster finds herself face to face with the horrors of Pre-WWI in America in 1915. Her father is murdered, allegedly for his ingenious encryption machine. His expertise in cryptography made him a desirable asset to the United States Navy, but a high-level threat to less friendly factions, mainly those of German descent. As her father's assistant, she had learned and become quite skilled in cracking many types of ciphers and codes, but now she finds herself without parents, home, or job.
Shortly after her father's funeral, Captain Waller of the Signal Corps offers Emma a job in Fairfax, VA as a decoder of encrypted messages from various enemy sources. Her job was to help stop espionage and the destruction of bridges, warehouses, cargo ships and ammunition factories by decoding messages from the enemy. She also donates her father's secret encryption machine to the Navy for its potential use should America ever become directly involved in the war.
Emma settles into her new job. She enjoys the work and feels accomplishment in potentially saving lives and property, but is totally unaware of a new storm brewing in her own life. Unbeknownst to her, her father's killers are still frantically searching for Professor Shuster's encryption machine, and will stop at nothing to find it. Although Emma's employment with the Signal Corps is a high-level, secret position, eventually they do find her. Emma is moved by the Navy to a new location, and is personally guarded by Navy soldiers, but one night, under the blanket of darkness, the enemy attacks….
The Crimson Cipher is an enthralling historical novel that joins history, romance, and Christian faith with real life circumstances and hardships. Although Emma is like a small cog in a giant machine, her work, behind the scenes, is vital to the American people.
The book gave you a real feel of pre-WWI sentiments and the world of cryptography. Excellent book; highly recommended! (reviewed by S.Fincannon)
About the author:
SUSAN PAGE DAVIS is an award-winning author of twenty-five novels in the historical romance, romantic suspense, mystery, and romance genres.
DISCLOSURE: A copy of
The Crimson Cipher
was donated by the author in exchange for our honest review. Opinions expressed are solely those of the reviewer.